A region is an element of the state machine. It belongs to a composite state.
Symbol
A region appears inside a composite state. It has no own symbol. When a composite state contains at least two regions, a dashed line is drawn to separate the two regions.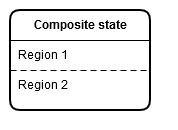 Interpretation of and deviation from the UML specification
UML specification
Region contains all states and all pseudostates.
yasmine deviation
Regions contain all states and most pseudostates except for: entry point, exit point, deep history, shallow history, which belong to states.